Fashion Designer Marie France Van Damme Launches 'Curated By MF,' A Globally Inspired Home Decor Platform And Line
Marie France Van Damme is a Canadian-born resortwear designer based in Hong Kong who specializes in elegant, luxury resortwear, swim and ready-to-wear. Understated yet chic, her fashion is inspired by both Europe and Asia and designed for the modern woman who appreciates luxe textiles and high design.
Marie France Van Damme with pieces from her Curated by MF collection.
Van Damme travels the world to find inspiration for her fashion line, so it's only fitting that she launched a travel-inspired home decor collection and platform, Curated by MF, which features a number of pieces for the home from global artisans and small businesses, and an MF Private Collection of leather trays. Van Damme herself curates pieces for her own home and has intimate connections with small designers in the souks of Marrakech and flea markets in Paris. Since the launch of Curated by MF in response to the devastating Covid-19 pandemic, Van Damme will showcase a new designer or artisan every two weeks and sell their creations on her website.
The designer speaks with Forbes about how the platform and private collection came about, how she finds inspiration without being able to travel right now and more about the artisans she is supporting through this new collection.
Was Curated by MF a response to Covid-19?  
Marie France Van Damme: Yes, it was. I launched 'Curated by MF' to give designers brand exposure and to showcase my lifestyle to our audience. I wanted to help support small businesses and create a new platform in order to help independent designers and craftspeople. Not only this, but it's an opportunity to introduce our customers to some of my very talented friends who share my passions. They also work with the finest artisans and their creations are limited, beautiful and ethically sourced.  
'Curated by MF' was designed as an online lifestyle and e-commerce platform and features a selection of beautiful curated products and exclusive label pieces from all over the world. My hope is that it will inspire others to discover the wonderful people I have met throughout my life — both personally and professionally — who share my passions.
Tell me about these artisans and small businesses and some specific cities that inspire you.
MFVD: I love to travel and find inspiration and materials everywhere I go. It's my passion. In Paris, my trip will always involve a day to le marché aux puces (flea market) In Marrakech, no visit is complete without a day (or three) in the souks of the Medina. I love to collect teapots and getting lost in the souks is the best way to find them. Gueliz, a French area in Marrakech, is another place where I find all my merveilles, or wonders: Berber traditions with Arab, Jewish and French influences. 
Bowls from Belgian designer XL Boom, a husband-and-wife company focusing on handcrafted design.
When at home in Hong Kong, I always visit one particular antique dealer in Dongguan, China (a Chinese version of la caverne d'Alibaba). I also have specific people I visit when I'm in Bangkok. 
Why is it important for you to showcase small designers around the world?
MFVD: As a small-business owner in a time of health crisis and economic uncertainty, it is important to support one another in order to weather the current downturn. Over the years, I have developed relationships with craftspeople from the souks of Marrakech, traders in the bustling streets of Hong Kong and Bangkok and small-business owners from around the globe. As a result, I wanted to introduce our audience to these special and talented people and their beautiful products to help keep their craft alive. Every small business is fragile during this turbulent time. There are so many people around the world that do not have the means to showcase their craft and passion — no website, no logistics to ship goods, etc. My aim is to help these businesses in any way possible.
Is this your first foray into home decor? 
MFVD: I love to decorate and transform homes. Over the years my husband and I have developed a business of buying houses in Hong Kong, redesigning them and selling them. Even when we don't have a project, I find myself wondering which room in my house or office I can revamp next. I enjoy collecting objects and have always had a passion for beautiful things. 
A crystal decanter and coupe glass.
My love of home decor and entertaining inspired the launch of my book in 2011 RSVP: Simple Sophistication. Effortless Entertaining — a book which reveals the secrets of successful, sophisticated and stress-free entertaining, and how to add a sense of occasion to everyday life. Having lived in the Orient for 40 years, I find inspiration in fusing understated European elegance with dramatic Asian aesthetics — something which is evident in my home(s) and my fashion label.  
Tell me about the MF Private Collection.
MFVD:  Throughout my years of travel from Europe to the Far East, I discovered artisans that are masters of their craft. I've created pieces with these artisans' products for the table, decor, food and more. I also find collectables, one-of-a-kind pieces and niche pieces to create an exquisite ambiance. These pieces have been purchased from all over the world — from the souks of Marrakech, to the streets of Italy and Bangkok.
Handmade trays made in Genoa, Italy in collaboration with Marie France Van Damme. The leather trays ...
The MF Private collection debuted with the launch of leather trays from a small factory in Genoa, Italy. I created these trays in my four DNA colors: gold, silver, dark silver and bronze. This past month we introduced a beautiful collection of Babouche slippers, which were handmade in the souks of Marrakech, using my silk fabrics from Lyon — perfect to pair with my caftans. 
How does travel inspire everything you do, from this collection to your own fashion line, to the way you live your life?
Over the years I have been greatly influenced by some of my favorite destinations such as the Amanpuri hotel in Thailand, a long-time oasis of understated chic and zen tranquility and a home away from home for over 25 years. It had a huge influence on my way of life: the way I have decorated my homes over the years, the way I entertain my friends, and the way I dress and dress other women. 
Marrakech has always had an amazing influence on me: the hospitality, the food, the markets, the warmth of its people and 'the caftan,' which has had a raison d'être in my life and collections. There is nothing more chic than entertaining friends at home or in the city with a caftan. It reminds me of my days at Studio 54. I also find inspiration in my everyday life in Hong Kong — a great city that combines the very best of the East and West.
A Moroccan teapot on a table and a woman wearing a lovely Marie France Van Damme caftan.
I miss traveling and meeting my customers — another source of inspiration. I am looking forward to visiting my stores and teams again soon in Bangkok, Phuket, Singapore, Miami, Los Angeles, Marrakech and Dubai. The collections I create are for the people who live in those warm cosmopolitan cities or travel to these cities.
Featured Posts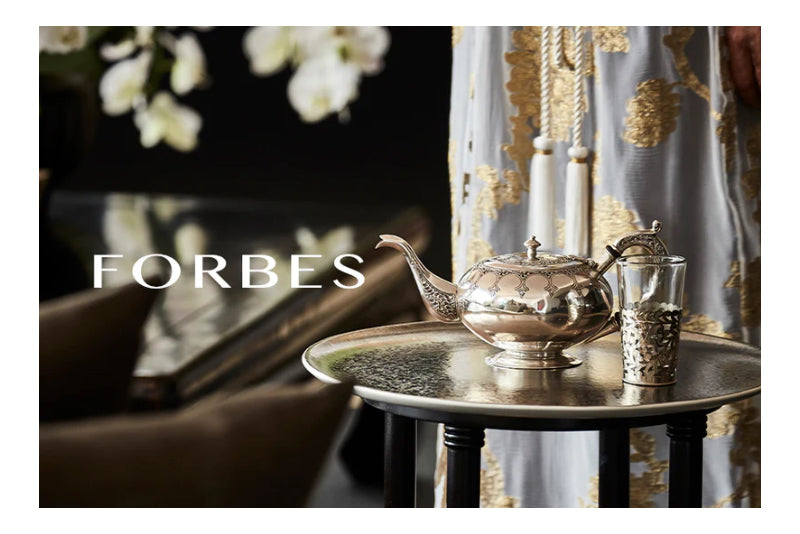 Fashion Designer Marie France Van Damme Launches 'Curated By MF,' A Globally Inspired Home Decor Platform And Line Emma Reynolds Marie France Van Damme is a Canadian-born resortwear designer based in...
Read More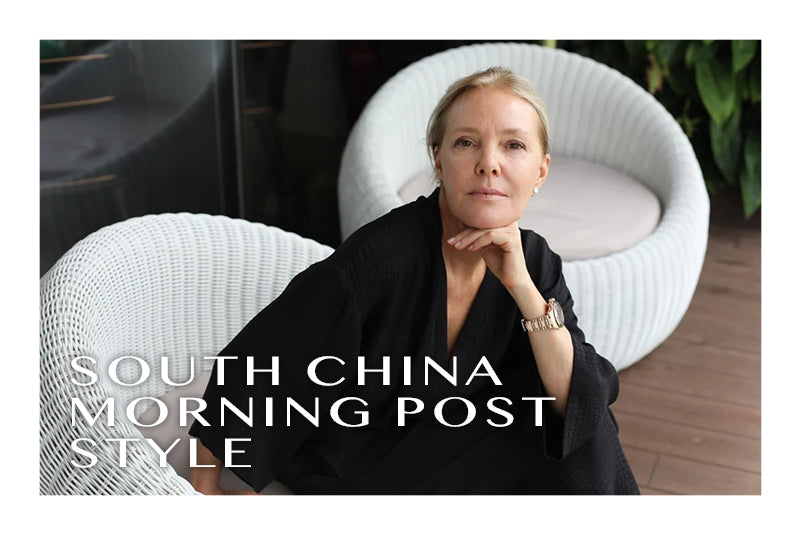 Beyoncé swears by it: Marie France Van Damme designs luxury resort wear that celebrities flock to buy  After working with fashion retailers Marks & Spencer and Saks Fifth Avenue, then...
Read More